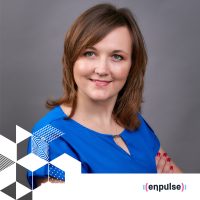 Magda Pietkiewicz
CEO | ENPULSE
For over 20 years, she has been implementing innovative projects for international and local management and HR brands. Co-owner of Zmotywowani.pl, a company with more than a decade of experience in HR consulting - part of which is Enpulse - a platform that measures the level of employee engagement. Expert: Research Executive Agency (REA), Brussels; Executive Agency for Small & Medium-sized Enterprises (EASME), Brussels; and Consumers, Health, Agriculture and Food Executive Agency (CHAFEA), Luxembourg. She is an environmental engineer and holds an MBA in business management from Oxford Brookes University. In addition to her business activities, she works for the vocational activation of people with disabilities. Privately, she is a mother, wife, and great tennis lover.
All Sessions by Magda Pietkiewicz
CEO EXECUTIVE SUMMIT 2022 / dzień 1
29/09/2022
Culture of innovation
Scena Główna - Centrum Konferencyjne GPW
Jak innowacyjna jest Polska? Czy nasz kraj ma szansę stać się hubem dla młodych biznesów z regionu? Co może ograniczać polskich innowatorów? W panelu otwierającym CEO INNOVATION EXECUTIVE SUMMIT porozmawiamy o innowacjach, ich wpływie na biznes, roli w gospodarce oraz kształtowaniu się kultury innowacji nad Wisłą.