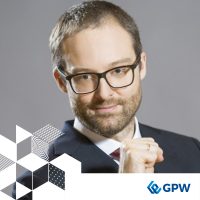 Dr. Marek Dietl is the CEO of GPW (Warsaw Stock Exchange) and the economic adviser to the President of Poland. He has spent almost 20 years in the consulting and venture capital industries. He collected experience as a non-executive board member of more than 25 organizations. Marek Dietl frequently undertakes community and academic activities. He used to serve as a mediator at the arbitration court of the Financial Supervision Commission and adviser to the President of Energy Regulation Office. Marek Dietl is also an assistant professor at the SGH-Warsaw School of Economics.
All Sessions by Marek Dietl
CEO EXECUTIVE SUMMIT 2022 / dzień 1
29/09/2022
BUSINESS GROWTH
Scena Główna - Centrum Konferencyjne GPW
Jaki mierzyć proces rozwoju sukcesu przedsiębiorstwa? Opowiemy o 4 strategiach rozwoju rynku, o ich wadach, zaletach oraz o spostrzeżeniach panelistów odnośnie tego, jak w dzisiejszych czasach najlepiej rozwijać swój biznes, którą drogę wybrać, a czego starać się wystrzegać.